HEALTHY TIPS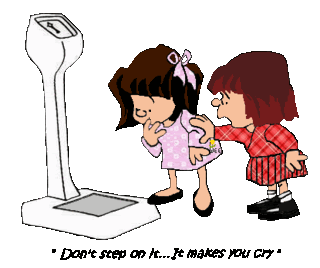 Don't step on it .... It makes you cry
  When it comes to dieting, you will find all sorts of crazy and faddish diets on the market today. In addition to the many schemes, there seems to be any sort of scheme, you can imagine. From shakes the diet industry has evolved to include everything from candy and pudding to pills and patches. Each point is the assertion that it can help you drop unwanted pounds quickly and easily. Well, I can tell you for a fact it is very easy for many of us must fall on a few pounds.
If you want some tips that should make your weight loss goals easier to achieve then perhaps the following tips will help you
.
Maybe you want to lose weight, maybe you want to gain weight. Maybe you want to lose fat, maybe you want to increase muscle. Maybe you want to do a combination of the above. Depending on what your goal is, you will have to adjust your diet and workout accordingly to fit your specific goal, and even more importantly, to fit your own body.
Knowing this, there are certain workout, nutrition and diet facts and tips that will remain true and useful to everyone even though they may have different bodies and different goals. Here are some of them:
Weight Loss Facts - facts about losing fat
Fact #1 - There is no best weight
Fact #2 - You can NOT turn fat into muscle.
Fact #3 - Spot reduction is impossible - myth about losing fat
Fact #4 - Fast weight loss - you can't lose weight fast
Fact #5 - There are no weight loss secrets.
Fact #6 - Healthy or clean eating doesn't effect weight loss.
Exercise Facts - facts about weightlifting and workouts
Fact #1 - For weight training, your workout volume and frequency must match.
Fact #2 - Less weight and high reps are NOT for tone and definition.
Fact #3 - Muscle soreness is not an indicator of a good workout.
Fact #4 - Cardio workouts won't prevent you from building muscle.
Fact #5 - There is no BEST workout, but there are workouts that are best for each training stage.
Fact #5 - The best exercises for some people might not be the best for you.
Miscellaneous Diet and Fitness Facts
Fact #1 - Your post workout meal is pretty important.
Fact #2 - Diet tips and fitness tips are stupid!
Fact #3 - It doesn't matter how late at night you eat!
Fact #4 - Different body types - ectomorph, mesomorph, endomorph
Fact #5 - Eating 5-6 small meals per day is NOT a requirement.
Additional (slightly more obvious) workout and diet facts:
- Those fancy looking ab machines you see advertised on TV all the time (for example, the Ab Lounge) are pretty much useless. Read more here: ab workouts
- What works for one person might not work for you. In general terms, people will all lose weight, gain weight, burn fat and increase muscle the same way. That's just how the human body works. However, the specifics may be different. For example, your friend may lose weight eating 2,500 calories a day, but you might gain weight eating 2,500 calories a day. One person might do 12 sets for biceps and get results, and another may do just 5 and get the same results. One person might work each muscle three times a week and see results, another may work each muscle once a week and see results. The best advice I can give you is this... try something, give it some time, and closely monitor what happens. If it did what you wanted it to do, keep it. If it didn't, adjust it until it does.
- As long as your workout program is built around proven principles, it will work if it's done consistently and for a significant period of time.